Small Businesses Learn with Goosefoot
Goosefoot Community Fund mentors dreams for many South Whidbey small business owners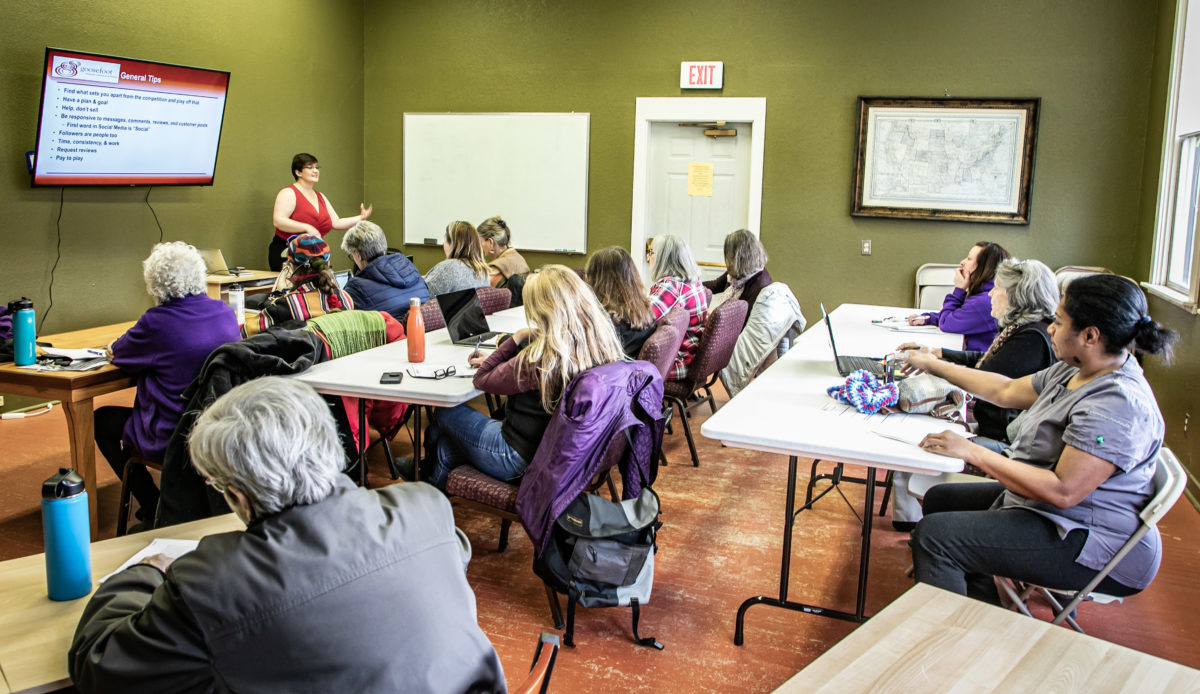 Launching a new business can be overwhelming anywhere. But it's especially daunting in a rural community where support for new enterprises and entrepreneurs is seldom found. That's not the case on Whidbey Island, a skinny, long rocky enclave in Puget Sound north of Seattle.
For decades, the southern half of Whidbey aka South Whidbey has been the place where city-weary folk, retired couples and an eclectic mix of artists relocate with hopes of a quieter, simpler life. Savvy entrepreneurs regularly step in to provide the dining, retail, and wellness services these residents—and our tourists—enjoy.
Many of these small business owners have benefited from the personalized tools and assistance received through Goosefoot's free business workshops.
Goosefoot launched the workshops in 2016. Aimed at all types of businesses, the classes are part of their commitment to boost the local economy. "We understand small businesses form the backbone of a rural community like ours," said Marian Myszkowski, Goosefoot's program director.
How to master social media, branding, marketing, bookkeeping, taxes—even food business licensing requirement—are among a roster of workshops offered that are repeated on different days and times to accommodate different schedules.
"We started because it was something that was missing in this community," said Sami Postma, Goosefoot's education coordinator. "We're offering subject matter that no one else is covering," she said. "It's a free forum, open and welcoming to all, and focused on practical use rather than some big theoretical ideas."
Prior to COVID-19 social restrictions, classes gathered together in a group setting. Postma successfully moved the offerings to live online webinars which are available to view on the Goosefoot Community Fund YouTube video channel.
The workshops have attracted many kinds of entrepreneurs, from foodies seeking to open their first restaurant to health professionals wanting to open their own private practice. Licensed social worker Patrick Moll-Nevins attended Goosefoot workshops in social media marketing and navigating small business taxes before opening his private office specializing in psychotherapy and social clinical work.
"Both classes have helped me tremendously," Moll-Nevins said. "I learned to utilize social media to elevate my business exposure to targeted audiences and to create appealing content on a limited budget. The value of these experiences and the services that Goosefoot has provided cannot be overstated."
Learning with others is also a bonus, former students noted. "I found it helpful to be in a room with other small business owners as we learned from each other and were able to network," Lis David said.
Many students return for subsequent workshops or refreshers. Students' accomplishments can be seen all around South Whidbey and online, Postma remarked.
"I've seen the websites people have put together since coming," she said. "I've seen the social media strategies they have implemented and I've seen the flyers they have created themselves around town."
"It always makes me feel good to see folks implementing the things that they learned in their time with us."